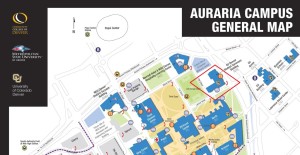 THATCamp Denver 2017 will be held at:
CU Denver, Student Commons Building (1201 Larimer St. & Speer Blvd.) (Campus Map)
The Tivoli Garage is the closest public parking available for attendees. There are surface-level parking lots between the two directions of Speer Blvd. along Cherry Creek, but they are limited in size. The garage parking doesn't require any identification, but there is a fee of $6.25 per day. The university will be open, so the lot will be open too, but because classes aren't in session, there shouldn't be any difficulty finding spaces.